READ THIS - How to deal with Rheumatoid Arthritis
Arthritis is a debilitating disease. My dad is a long time sufferer and someone who would still be working today if it wasn't for this painful disease.
There is currently no cure for RA. My dad takes a cocktail of anti-inflammatory medication to manage the pain, but these medications are not without their side effects.
Scientific studies have proven that there are certain foods that have shown to fight inflammation, strengthen bones and boost the immune system.
Green tea is one of them. Packed with polyphenols, which are powerful antioxidants believed to reduce inflammation and slow cartridge destruction.
Matcha is a type of powdered green tea and gram for gram, matcha is one of the most powerful antioxidants in nature.
PICTURE: EISIA Ceremonial Grade Pure Matcha Tea in Powder form. It takes just over 1 hour to grind just 40 grams of Matcha.
PICTURE: Matcha Brewed as tea. The true excellence of this matcha comes from its velvety, silky texture as it passes over the tongue. It is a full bodied and well rounded green tea with no bitterness. It has a frothy, creamy, sweet like taste. 137 time more antioxidants than regular steeped green tea.
EGCG is a chemical compound that belongs to a class of flavanols known as catechins. It is most abundant in green tea. This compound is known to have anti-inflammatory properties.

Matcha green tea is super concentrated and is up to 10x more potent than regular green tea!
In a study* conducted by the researchers from Washington State University (WSU), research suggests that the compound EGCG may be a promising alternative to current treatments for RA.

In RA, the immune system mistakingly attacks the synovial tissues surrounding the joints, causing inflammation, swelling and pain. This can cause damage to the cartilage and bone. In more severe cases, RA can lead to joint deformity.

After giving EGCG to mouse models of RA for 10 days, the team noticed that treatment with the compound led to a significant reduction in ankle swelling.
Dad is now a regular consumer of matcha tea. He drinks 2-3 cups a day and limits he's consumption of known foods that cause inflammation.
The changes have been remarkable. It just goes to show how much of a difference diet can make in our lives. I strongly believe that prevention is better than cure.
If you or someone you know is suffering from this disease, then maybe it's time to make a simple change?
Are you interested to know more about Matcha and how this ancient green tea powder can make a difference in your life?

Grab a copy of our Made with Matcha eBook and learn how this versatile incredible green tea powder can make a healthy difference in your life.
download the made with matcha ebook - FREE!
Matcha powder is such a versatile ingredient that we've written a whole book on its amazing health benefits.
The Made with Matcha eBook contains 20 simple and delicious recipes of food, drinks and treats to try.
Enter your email to receive your copy of our very own Made with Matcha eBook.
NEW SUBSCRIBERS ALSO RECEIVE 10% OFF THE ENTIRE PUREMATCHA RANGE!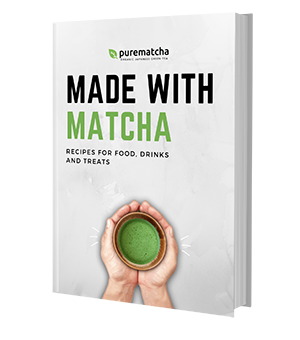 SUBSCRIBERS GET 10% OFF PURE MATCHA TEAS
View our collection of 100% Organic Pure Matcha Tea Australia. We source our Matcha powder from Uji Japan.
The Uji region is synonymous with the highest grade of matcha green tea powder in Japan. The region's hilly terrain, high-quality soil, mild temperature, and prevalent mist all contribute to what many call the most excellent matcha tea in the world.
Don't like our Matcha? No problem, we have a 30 Day money back guarantee. No risk, No worries!
Send it back and we'll give you a full refund. Simple.

SUBSCRIBERS GET 10% off entire tea set range
Our traditional Matcha tea sets make the perfect gift for introducing someone special to the wonderful, healing aspects of Matcha. All our Matcha tea sets come with free shipping Australia wide.