Green Tea Matcha Latte Recipe
How to make a green tea matcha latte


Green tea matcha latte RECIPE
You don't need to go to Starbucks to drink a Matcha latte when you can make it yourself at home. This vegan green tea matcha latte is simple to make and super delicious. This Pure Matcha latte is tasty, full of antioxidants and only requires very few ingredients to make.
1 cup of unsweetened coconut milk
1 tbsp of culinary grade matcha
1/4 cup of boiling water
1 tbsp of maple syrup
1/4 tsp of cinnamon powder
1. Heat the coconut milk over medium heat in a pot, stir and set aside.

2. In a small bowl, add the boiling water, matcha green tea powder, maple syrup and cinnamon powder. Mix together with a bamboo whisk or spoon until well combined.

3. Pour the milk into a mug, add the matcha tea mixture and stir until well combined.

4. Sift some matcha tea powder over the top of the bowl to finish off.
download the made with matcha ebook - FREE!
Matcha powder is such a versatile ingredient that we've written a whole recipe book of amazing food, drinks and treats to try.
Enter your email to receive your copy of our very own Made with Matcha eBook.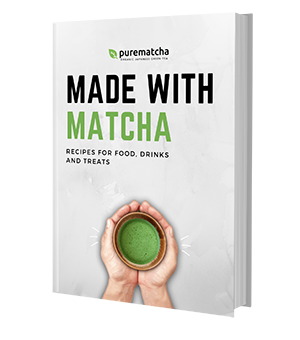 pure matcha tea australia